Description
C-MAG DESIGN & FUNCTION
The C-MAG is a twin-drum, high capacity ammunition magazine system with a capacity of 100 rounds for rifles, light support weapons, firing port and other specialized weapons in 5.56mm, 9mm & 7.62mm calibers:
The C-MAG magazine consists of two main component assemblies:
DOUBLE DRUM STORAGE HOUSING
Is standard in each caliber category and fits any weapon within the category.
FEED CLIP ASSEMBLY
Is interchangeable within each caliber category and serves as an adapter for various weapon types.
The patented design provides for equal distribution of the ammunition in each of the twin-drums.  During loading the live cartridges are pushed on top of the spacer rounds through the feed clip into the drums.  The cartridge column splits at the point where the feed clip joins the storage housing allowing for the concurrent division of the ammunition into the twin drum housing. Further into each drum the cartridges divide into two concentric rows for storage.
During firing, rounds are fed alternately from each drum through the feed clip into the weapon, resulting in a fixed center of gravity. Using a unique rotation device and low torsion stress springs, the C-MAG is the world's first magazine with a full 100-round capacity, capable of being pre-loaded and stored indefinitely.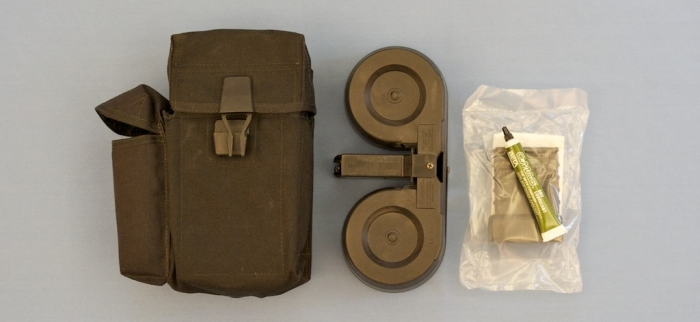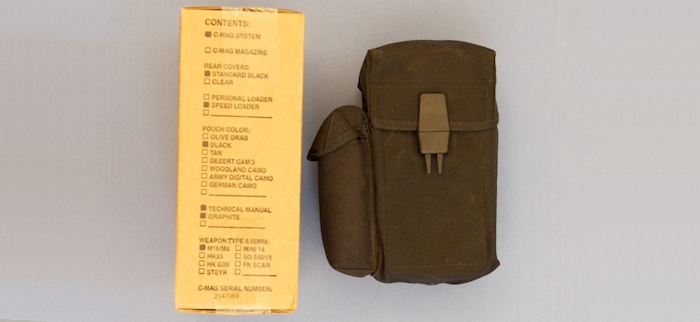 Firearm part sales are Final. All NFA Rules apply.
Due to market fluctuations, all prices are subject to change.