Description
An unparalleled reference to aircraft under development or in production Jane's All the World's Aircraft sets the standard in aviation reference.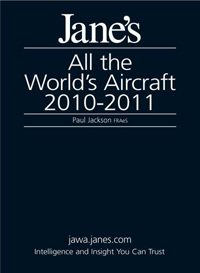 In its 100th year, the book contains details of 614 companies and 1,025 aircraft from 48 countries. Although 52 companies and 97 aircraft appear in the 2009-2010 edition for the first time, 99.5 per cent of those carried forward from the previous year's book have been updated with new information.
It provides exhaustive technical detail on civil and military aircraft currently being produced or under development globally. Photographs and line drawings aid recognition and comparison, giving you the ability to evaluate competitors, recognise trends in aerospace development, identify potential buyers and select business partners. You can check key specifications for any aircraft, including dimensions, performance, structure, landing gear, power plants and armaments. In addition, there are details of the world's aircraft manufacturers and their programmes, so you can identify key contracts, production rates, customers and order backlogs.
Many other of the World's aircraft remaining in service, but no longer being built, will be found in sister publication, Jane's Aircraft Upgrades.
All sales are Final. See FAQ for firearm purchase Rules and Regulations.