Description
"The Complete History of North American Railways" edited by Derek Avery – 1st EDITION Hardcover (oversized 10-1/4″ x 14-3/4″) – published in 1989 by Brian Todd Publishing – 352 pages with hundreds of great color and black & white photos and illustrations of railroad history, locomotives, locations and many great maps – book is in New condition. This book is the second, updated printing of 1996 by Regency House Publishing Limited.
This massive book covers the whole 150-year history of the world's most formidable transport system, from the pioneering days of the 19th century to the age of Amtrak and Conrail, with special chapters covering the individual railroads and the major steam locomotives. The heroic feats of builders and the machinations of the "robber barons," the glamour of the great passenger trains and the workaday grind of the mighty freights are described and illustrated in a fascinating record of human enterprise and technological progress. This is a huge book, it weighs 6 lbs. No collection of railroad items is complete without this great book.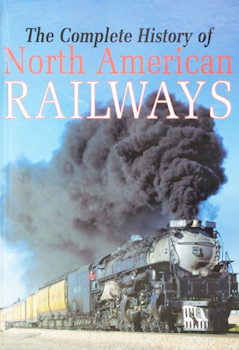 All sales are Final. See FAQ for firearm purchase Rules and Regulations.