Description
The most powerful, and easy to use High Intensity Discharge, (HID) Personal Searchlights available. AE XENIDES® produce up to 1800 lumens, illuminating targets up to 3000ft., using proprietary XENIDE HID technology developed by our engineers.
The extremely bright light, makes target identification and colors easier to distinguish. The focused beam results in more lumens per watt on your target than ordinary high power flashlights. The beam is between 4-6ft., in diameter at 2000ft., allowing adequate peripheral vision of outlaying areas. Safe for use by industrial users or those exposed to explosive gases. "EP" models are rated for Class 1, Division 1&2, Groups A-F (all gases, & dusts except grain) environments.
Lightweight rechargeable lithium ion battery delivers power for up to two hours and conveniently located push button on/off switch makes for easy one handed operation.
The design criteria was based on the needs of law enforcement, border patrol, fire departments, marine/coast guard, and other public and private security organizations. However, these powerful HID lights are ideal for camping, hunting, boating, and can be seen for miles if assistance is needed.
The rugged aluminum light body is sturdy, but not heavy. Rubberized lens and end caps help absorb shock if dropped or mishandled. You can expect many years of uninterrupted use. With the form factor of a flashlight these HID searchlights can be used in self defense, by shining the powerful beam into an attacker's eyes, causing disorientation.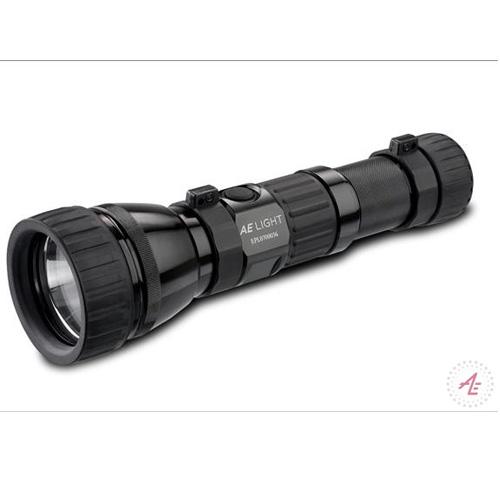 AELight 20W Xenide HID Flashlight Searchlight
This is very portable, easy to carry and use light for inspecting tanks, vessels and fuel cells. This explosion proof flashlight is ideal for confined spaces requiring the highest safety rating of Class, Division 1.
1200 lumens AEX20-EP Explosion Proof Tank Flashlight – 20 Watt HID Rechargeable – Class 1, Division 1 Groups A,B,C,D Explosion Proof Tank Flashlight
20 watt High Intensity Discharge (HID) rechargeable flashlight with 2600 mah waterproof lithium ion battery – 1200 lumens Explosion Proof Tank Hand Light
20 Watt HID Rechargeable Flashlight – 1200 Lumens – 2000 foot beam – Division 1, Class 1, Groups A,B,C and D. Temperature rating T4a.