Description
Are you looking for the most compact out-the-front automatic knife on the market? Well then you've found it! The Microtech UTX70 fires in and out automatically via the sliding firing button the the knife's right side. Super small (less than 6″ overall). These are the highest quality knives, completely manufactured in the USA.
This UTX-70 features a black anodized aluminum handle. The blade is a double edged dagger configuration made of S30V stainless steel. Different configurations of the double edge are available including full or partially serrated and straight. Knife finishes available in black or satin steel. These precision knives are factory sharpened to a razor edge. The pocket clip and hardware are black coated. The knife comes with a glass breaker tip, carrying case and knife care instructions.
Microtech Knives are  considered a cutting tool of the highest quality, carrying a lifetime limited warranty. The UTX-70 blade is made of premium grade high carbon stainless steel wherein edge holding is favored over rust-resistance. Minimal care is required in order to prevent rust and corrosion. Follow MIcrotech knife care instructions
(http://www.microtechknives.com/knifecare.html)
If you follow these simple steps your knife will last you for many years. If you don't follow these steps, you could void your warranty.
Specifications:
Action: Double action. Auto fire/uto retract.
Blade: 154-CM, .080″ thick, RC 59-60, two-tone black coated.
Blade Length: 2.41″
Blade Style: Double edge, dagger style
Handle: 6061-T6 anodized aluminum, .31″ thick
Length Closed: 3.22″
Length Open: 5.63″
Weight: 1.2 oz. (Aprox)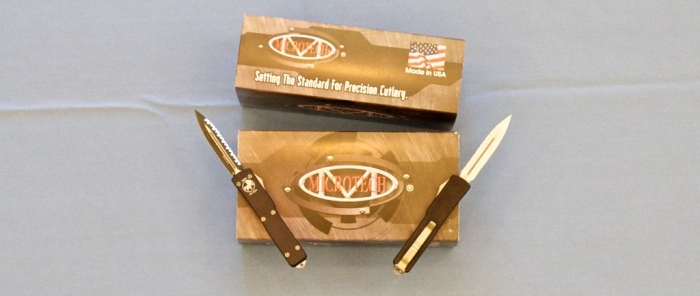 Knife sales are Final. All NFA Rules apply.
Automatic knives are restricted items in many states. They are primarily designed for military, law enforcement and EMT uses. These knives are restricted – be certain to consult your local and state laws before purchasing these items. For purchase from UFT we require a copy of law enforcement or military employment, Federal Firearms license or valid state driver's license AND concealed weapon permit.
Due to market fluctuations, all prices are subject to change.